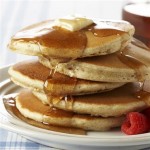 I first tried making these beer pancakes at the annual fall QUAFF campout in Anza Borrego and they were a real hit.  When combined with the right beer, these pancakes can be very flavorful. I usually make these with a stout because the flavor is great, goes well with maple syrup, and lets face it stouts are just a great all around breakfast beer.  I think next time I'm going try making these with chocolate chips 😀
You will need:
1 cup  all purpose flour
¼ cup  white sugar
¾ tsp  baking powder
½ tsp salt
1  egg, beaten
1 cup  beer
2 tbsp  melted butter
Making the pancakes:
–       In a large bowl, stir together dry ingredients (flour, sugar, baking powder, and salt).
–       Then pour in the egg, beer and melted butter and wisk until just blended.
–       Heat a skillet over medium heat and coat with butter or cooking spray.  Cook until browned on both sides.
Tips:
–       To make the pancakes more hearty try using half whole wheat flour with half all purpose flour.
–       These pancakes taste best when made with a dark flavorful beer, my favorite is Young's Double Chocolate Stout.