We've brewed!!! Finally, after a two and a half year layoff JenEric is brewing again. It's been pretty difficult living in such a brewing mecca, having so many great brewers as friends, participating in so many homebrew and craftbrew events and not actually making and drinking any of our own beer.
Ho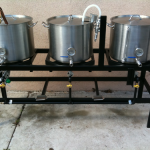 w it finally happened, well we were very graciously endowed with a
B3 flat brewing sculpture
and that pretty much makes you have to get off your ass and brew. We dug out and cleaned all of our brewing equipment. I love homebrewing! Took stock of what we had and needed which always should be done before a brew session.
We ran the system two times before the actual brew day to clean, learn how to run and make sure all the seals/connections were solid. Most of them weren't. After tightening EVERYTHING up and learning the flow … we breWed.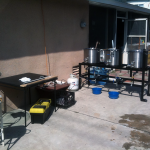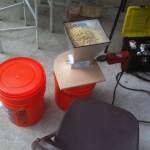 On 2/26/12 we brewed a ComeBack RyePA.
This beer has a similar grain bill to an American IPA except that some of the pale malt is replaced with rye malt.  For this recipe we used 2-row and 21% rye malt.  The rye malt imparts a crisp tartness that we think goes really well with the robust hops of an IPA.  We also added some Munich and Crystal malt to provide some toasty and caramel flavors.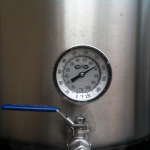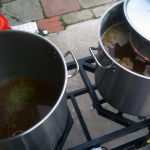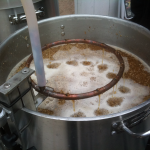 We wanted this beer to finish somewhat dry so we mashed at 152ºF for an hour.  We found that our stainless mash tun looses about 2 degrees in an hour.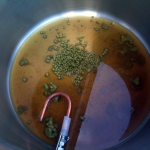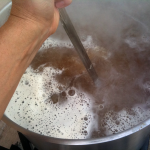 Neither of us likes super bitter IPAs so we were shooting for about 54 IBUs using our favorite IPA hop combination Cascade, Amarillo, Centennial, and Simcoe.  Yummmmm!  Shown in the picture on the right you can see the wort being pumped into the boil kettle filled with first wort hops.  Smells delicious!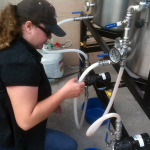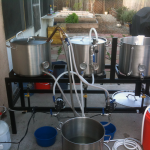 One thing we learned during this brew is that we need to start cleaning the pumps immediately after they are finished being used. We also learned that we should use hot water from the house for the cleaning solutions because the hose water takes too long to heat up. We were so busy trying to clean the pumps and get everything sanitized for recirculating the wort, we accidently forgot to add whirlfloc to the boil, so we are expecting some haze since we went really heavy on the late hop additions.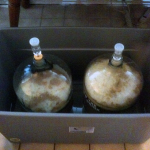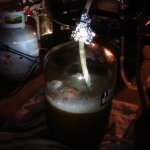 Using our recirculation wort chiller we were able to get the temperature down pretty quickly.  I think we were a little bit tied at this point because we ended up having one carboy filled with about 5 gal of wort, while the other one had about 3.5 gal of wort. Oops! 🙂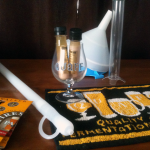 After 1min of oxygenation we pitched one vial of White Labs California Ale yeast (WLP001) per fermentor at 67ºF.  We plan to ferment this beer around 68ºF so we have a nice clean hoppy Rye IPA, can't wait to try it!!!
You can check out the recipe here.