A favorite of almost every San Diegan is the Fish Taco. This recipe we finalized for NHC 2009. At NHC club night QUAFF had their new 20 tap bar serving over 100 kegs of fine handcrafted homebrew. (We won the golden urinal that year).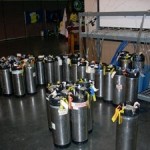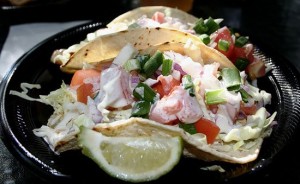 We also were serving our San Diego inspired Fish Tacos with Duvel Creama, which turned out to be as big of a hit as the many amazing home brews.
Servings: 6
You will need:
3 Lbs of Mahi Mahi
1 bag of shredded cabbage mix
Fresh Salsa
Corn tortillas (yellow and white)
3-5 limes
1 Jalapeno
2 green onions
Cilantro
Salt
Bottle of Duvel
A BBQ
For the fish:
1 tsp cumin
½ tbsp minced garlic
1 tsp coriander
1 limeFor the Crema:
½ tsp cumin
½ tbsp minced garlic
½ cup mayonnaise
½ cup sour cream
½ cup plain yogurt
½ tsp cayenne pepper
½ tsp dried dill weed
½ tsp ground mustard
1 tsp minced jalapeno
2 minced green onions
½ tsp (roughly) minced cilantro
½ squeezed lime
½ lime zest
Duvel (see below for amount)
How to prepare the fish:
Before grilling the fish mix the coriander, cumin, garlic and a few shakes of salt in to a bowl.
Unwrap the fish, rinse and rub on the spices. Put the rubbed fish into a gallon zip lock back and squeeze as much lime juice out of one lime into the bag and let marinade for 5 minutes rubbing the in the spices.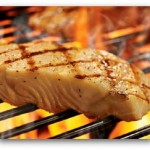 How to prepare the Duvel Crema:
Mix the list of ingredients above in a mixing bowl whipping until mixed thoroughly. Squeeze in lime juice from half of a lime and then take a zester or grater and zest the lime into the bowl. Mix thoroughly, and while mixing the Crema begin adding small pours of Duvel until you've reached the consistency you desire. I prefer the sauce to be a bit more on the runny side (add more beer).
Time to eat:
Grill up the fish, warm up the tortillas and build yourself some delicious tacos while enjoying the rest of that Duvel. Cooking with beer is great!