This is JenEric's new badass B3 Flat BrewSculpture. This system is quite the upgrade from the system we were using before.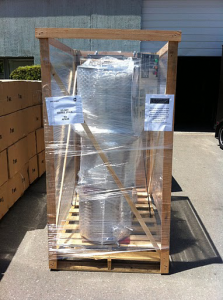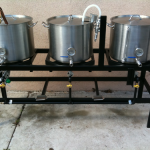 My awesome boss and friend Dan, bought this beauty for the company but it lives and produces at the JenEric Brewery. The only requirement of housing the system is that I make lots and lots of beer for the employees; good thing there are only two of us.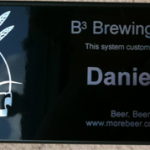 After using this amazing new system it's hard to believe we used a plastic bucket for sparging, an igloo cooler for mashing and had a one burner propane stove. It worked really well but it was pretty dangerous and hard work moving all the hot water, mash tun and boil kettle around manually.
Now with pumps, three burners, stainless kettles that don't need to be moved when they are full; we won't have as great of a chance of being scalded or throwing out a back.
This is our new brewery JenEric Beer Co. It's so on!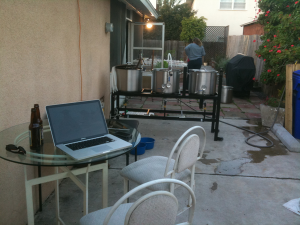 Here's the description of what were using now.
The Flat BrewSculpture is quickly becoming extremely popular. Since the kettles are all at one height it is easy to access any of the vessels quickly and without the need of a ladder or step. However the flip side of the single level is that there is no gravity drop during the Sparging Process so this Sculpture utilizes 2 pumps. One pump moves Sparge Water into the Mash Tun and one pump moves Wort from the Mash Tun to the Boil Kettle. The 1100 comes with 15 Gallon Kettles.
This system also comes with a wheel system built-in. Two casters are welded onto one end. On the other end there is a folding handle that allows you to pick up and move the system in a wheel barrow fashion. Easy to move, yet very stable in a static position. Pros: Low overall height and easy access are the selling points of this style. Ability to upgrade to full Digital Package. Built-in casters for easy movement. Cons: Have to balance the flow of two pumps running simultaneously (flow of liquid in and out of Mashtun) because there is no gravity drop from Hot Liquor tank to Mash Tun.