The QUAFF sponsored AHA 2012 First Round NHC (National Homebrew Competition) in San Diego was another great competition this year. It seems like it gets better and better every year.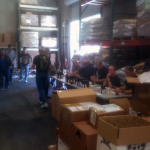 Jenny and I are members of QUAFF  (Quality Ale Fermentation Fraternity) and we volunteer not only to judge in the competition but also help out with some of the behind the scenes work that goes into the comp … like bottle check in.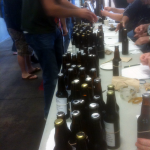 This year Ballast Point Brewing received all of the 700ish entries for our region. AleSmith has collected the entries in the past for as long as I can remember. However this year Ballast Point really stepped up, they received and stored all of the entries, provided a huge space in their enormous cold box and gave us space to check in and sort the entries. The day of the competition they even had a cold truck deliver the pallet of beers to the judging location, St. Dunstan's Church. Didn't you know GOD loves homebrew too?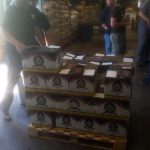 We began bottle check in at the brewery the week before the competition around 9am and proceeded to divide & conquer. We had boxes for storing the beer made in no time and by 1130am-ish we had sorted all of the beers. Not too long after clean up we were off to the tasting room for some delicious Ballast Point beers.
The next weekend we judged first round NHC 2012 at St Dunstan's Church. My judging assignment was Porters on Friday night, which consists of Brown Porter, Robust Porter and Baltic Porter. Belgian Strong Ales which consists of, Belgian Blonde Ale, Belgian Dubbel, Belgian Tripel, Belgian Golden Strong and Belgian Dark Strong on Saturday morning and Sour Ales which consists of Berliner Weisse, Flanders Red Ale, Flanders Brown Ale/ Oud Bruin, Strait Unblended Lambic, Gueuze and Fruit Lambic Saturday afternoon. There's nothing like starting out the morning with strong beer for breakfast.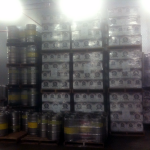 It was really enjoyable judging this year as most years. But this year I was paired up with really good judges who really helped me hone in on my perception of these particular styles. There were really great beers in all of the categories I was able to judge. One subcategory Strait Unblended Lambic, I judged is one of my most favorites and was really good. Although it does make me wonder when the Aroma for the style is described by "A decidedly sour/acidic aroma is often dominant in young examples, but may be more subdued with age as it blends with aromas described as barnyard, earthy, goaty, hay, horsey, and horse blanket. A mild oak and/or citrus aroma is considered favorable. An enteric, smoky, cigar-like, or cheesy aroma is unfavorable". That description does no favor to how wonderful the style is and I highly suggest trying a Lambic style beer, especially if you're into wine at all.
I finished judging around 4pm and needed some hops in a major way. So Jen and I said our good byes to our friends and fellow judges and headed home to cleans our pallets with a tasty AleSmith X. 🙂