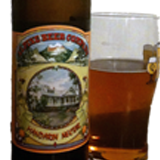 Brewery:
Alpine Beer Company
Style:
Specialty Beer
Commercial Description:
An Orange Blossom Honey Ale
Fresh organic orange zest and cracked coriander complement the orange blossom honey used in this ale. Like a mountain breeze through the citrus trees. 1.060 OG 6 IBU 6.5% ABV.
Alpine Mandarin Nectar

,
Tasting Notes
Aroma:
Very strong, sweet malty backbone with a mild background aroma of honey. Slight notes of citrus (orange) come through as it warms. No hop aroma.
Appearance:
Deeply Golden/Light amber in color. Crystal clear with a full long lasting off white head.
Flavor:
Moderate levels of malty sweetness with a slight honey flavor in the background. Great balance between malt and honey flavor. Low hop bitterness and no perceivable hop flavor.
Mouthfeel:
Medium bodied with a medium level of carbonation. Very clean and refreshing with a sweet and smooth finish.